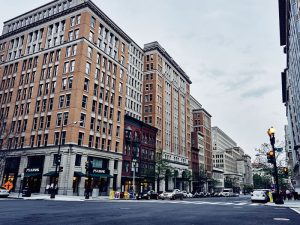 I know the importance of housing affordability in the District. Most members of my family have been forced out of the city because of the lack of affordable housing. My family is far from unique in this respect. Despite substantial investments by the city, affordable housing is getting harder to find with each passing year. The skyrocketing price of housing has exacerbated the underlying inequality in the District as many families have to make the choice between paying rent or buying food, clothing, and other necessities. I tasked the Affordable Housing Subcommittee with finding solutions to address our affordable housing crisis. The Subcommittee identified a number of reforms that can preserve the affordable housing we have, accelerate the production of new affordable housing, and ensure that we protect tenants' rights as the city continues to change.
Building Affordable Housing
The private development market in the District is not producing the quantity or the type of housing needed to meet our city's changing demands. Growing families cannot find units with enough bedrooms and the pace of affordable housing construction is still too slow. Therefore, to avoid continued displacement, I will work to:
Further incentivize the construction and preservation of family-size affordable housing, particularly 3- and 4-bedroom units across the District;
Expand the Site Acquisition Funding Initiative to provide additional assistance to non-profit affordable housing developers to help fund site acquisition and predevelopment costs;
Advocate to accelerate spending in the Housing Production Trust Fund to more rapidly develop affordable housing; and
Adjust property taxes on affordable housing properties to promote maintenance and quicker development of these community assets.
Preserving Affordable Housing
At our current pace of housing construction we will never meet our need for affordable housing. As a result, the District government must expand existing initiatives and explore new ideas to preserve our current stock of affordable housing. To meet these goals, I intend to:
Encourage the District government to create new affordable housing through affordability covenants;
Require detailed annual reporting and regular financial audits of the Local Rent Supplement Program and strengthen the implementation of the tenant-based Local Rent Supplement Program to ensure it serves as many residents as possible;
Ensure that the District implements the District Opportunity to Purchase Act to preserve affordable housing, including affordable home ownership; and
Develop a database of affordable and rent-controlled housing units in the District to track our stock of affordable housing so we can measure gains or losses each year.
Defending Tenant Rights
As the price of housing goes up, our residents can feel powerless in the face of encroaching development. The District government must stand with our tenants by ensuring that they understand their rights and that they have the means to enforce them. I will fight to:
Provide financial resources to tenants who wish to acquire their homes under the Tenant Opportunity to Purchase Act ("TOPA"); and
Provide additional support to non-profit legal organizations to represent tenants in the process of exercising their TOPA rights.