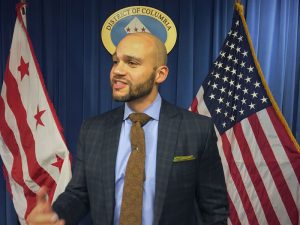 Many of our residents return to the District after spending years in faraway federal prisons where they are disconnected from their families and communities. According to the most recent count, we have approximately 67,000 returning citizens in the District. They are our neighbors, our coworkers, and the parents of our children. Most want to move past their mistakes and create a stable life for themselves and their families. We must ensure that our returning citizens have every opportunity to succeed. That is why I asked the Returning Citizens Subcommittee to identify reforms that would ease the return home for our formerly incarcerated residents.
Offering a Helping Hand
Returning citizens face many of the same challenges as other residents. They need stable housing and good paying jobs. Returning citizens face additional barriers due to their criminal records and their long absences from the District. They also may suffer from trauma and unaddressed mental health needs. Some of these residents may re-offend without additional supports to assist in their return home. To avoid this outcome and to help these residents reach their potential to be productive members of our community, I will strive to:
Provide additional financial incentives to encourage businesses to hire returning citizens;
Provide a temporary transportation subsidy for returning citizens when they return from incarceration to help them locate housing and employment;
Inform returning citizens of their right to vote to ensure that their voices are heard in our local government;
Expand public outreach and education on the District's Ban the Box legislation;
Evaluate Project Empowerment's success connecting returning citizens to permanent employment; and
Work with federal and local agencies to help returning citizens acquire government identification as they return from incarceration.
Guaranteeing an Open Door
The Mayor's Office of Returning Citizen Affairs ("MORCA") has extraordinary potential to be a gateway to government assistance for returning citizens. To meet that potential, however, the office needs a clear mission, additional resources, functioning case management, and strong relationships with other agencies. The office also must be more proactive in identifying and reaching out to returning citizens before they make it home to offer the critical supports these residents need. To meet these goals, I will work to:
Conduct a review of MORCA to identify its priorities and its strategic plan to ensure that its work is meeting the highest needs of residents returning from incarceration;
Expand MORCA to include additional case managers and establish returning citizen liaison positions at the Department of Employment Services, Department of Small and Local Business Development, the Department of Motor Vehicles, and other District agencies that serve returning citizens;
Ensure that MORCA fully utilizes its electronic case management system to connect returning citizens to available services and supports; and
Improve the collaboration between MORCA and the Commission on Reentry and Returning Citizen Affairs.